George W. Swearingen Obituary
---
This obituary is taken from page 4 of The Courier-Journal dated 19 Dec 1901. A short biographical sketch of his son, Embry Lee Swearingen is also available here.
---
After lying unconscious for five days Mr. George W. Swearingen died yesterday morning at 5 o'clock. He had failed for several weeks, or, in fact, never recovered from a third shock of paralysis sustained last August. The first came three years aga. The funeral will take place from the late residence of Mr. Swearingen, 218 West Broadway, this afternoon at 3 o'clock. The Rev. Charles R. Hemphill will conduct the services. Interment will be in Cave Hill cemetery.
The active pall-bearers will be Messars. R. S. Veech, L. O. Cox, Thomas W. Bullitt, J. H. Leathers, H. C. Rodes, W. F. Booker, William Hamilton and R. F. Balke.
The honorary pall-bearers selected are William A. Robinson, R. T. Durrett, W. C. Priest, Dr. J. W. Aiken, W. N. Haldeman, John Doerhoefer, John Hamilton, Bennett H. Young, Samuel Avery, C. G. Strater, J. K. Lemon, W. S. McRae, Fred Hoertz, J. G. Schmidlapp, Dr. J. G. Cecil, Dr. John A. Ouchternony, Hancock Taylor, George G. Brown, R. W. Delph, Charles M. Lindsay, Alfred Pirtle and Judge W. B. Hoke.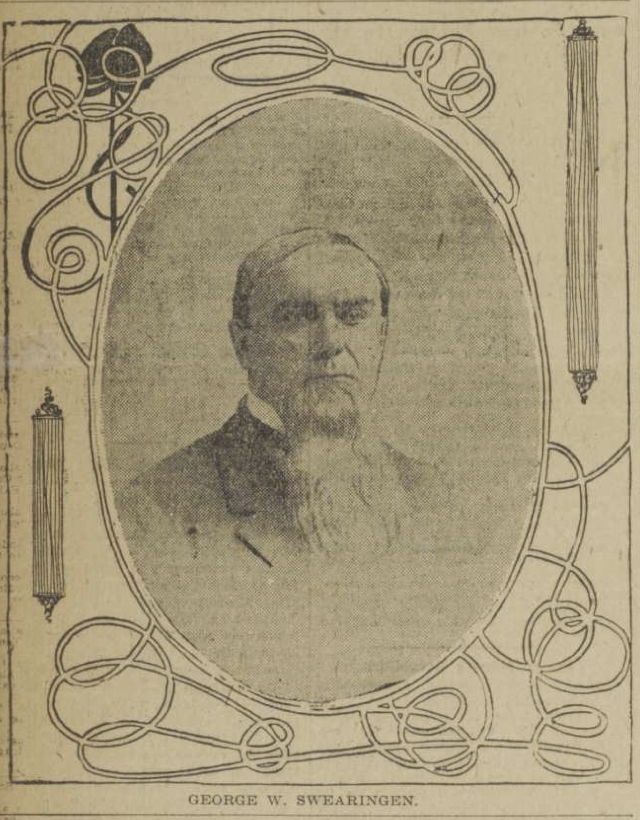 Mr. Swearingen comes from a family old in the annals of America, the original ancestor from Holland, having settled in Maryland in the Seventeenth century. His father, William Wallace Swearingen, came from Maryland and settled in Bullitt County, Ky., very early in the Nineteenth century. From that time Bullitt county has been the home of the family.
George W. Swearingen, though having actually resided in Louisville for forty years or more, always looked upon Bullitt county as "home." It was odd to observe how deeply a strong-headed business man was permeated and moved by a sentiment in respect to the home of his childhood.
Mr. Swearingen at the age of about sixteen years entered Centre College at Danville, Ky., and graduated there in the year 1857, having during his college career always commanded the respect and the good will of faculty and students.
Within a year after his graduation, at the age of twenty years, he married Miss Mary Embry, and this was an instance where an early marriage proved fortunate as well as happy.
He began his working life as a farmer on his father's farm in Bullitt County, and even here he was not lacking in success.
But at the end of the Civil War the conditions were so changed that he gave up the farm and removed to the city of Louisville, where all the rest of his business life has been spent. After a brief experience in the grocery business he built and for many years conducted the "Mellwood distillery." Beginning on a small scale, it became one of the largest and most successful institutions in the State. In the conduct of that business Mr. Swearingen showed great business sagacity, as well as energy.
Having established a good fortune, he sold his interest in the distillery and entered upon an entirely different line of work. He first united with some other men of means in the organization of the Kentucky Title Company and became its president.
Establishes Union National Bank.
A little later he resolved on the life of a banker. Rallying around him some of the oldest business men of the city, men who had come to know and to trust him, Mr. Swearingen organized the Union National Bank about the year 1889.
Here his sound judgment, broad intellect and high character shone conspicuously. Under his administration, supported and sustained by the trained mind and admirable ability of the cashier, Mr. L. O. Cox, the Union National Bank promptly became one of the strongest and most popular banks in the city of Louisville. In fact, the impress of Mr. Swearingen's character and methods remain today a marked factor in the character and management of that institution.
In the midst of his labors, in the expectation and hope of a grand development of his plans, he was three years ago stricken down by disease.
At a meeting of the directors of the Kentucky Title Company held yesterday a tribute to the memory of Mr. Swearingen was adopted unanimously. The tribute speaks highly of Mr. Swearingen's work as an officer of the company and a clear-headed business man, and of his personalty as a strictly honest, Christian gentleman.
---
If you, the reader, have an interest in any particular part of our county history, and wish to contribute to this effort, use the form on our Contact Us page to send us your comments about this, or any Bullitt County History page. We welcome your comments and suggestions. If you feel that we have misspoken at any point, please feel free to point this out to us.