George L. Pope, M.D.
The following sketch is taken from History of Kentucky, Volume 3 by William Elsey Connelley and Ellis Merton Coulter; Judge Charles Kerr, editor. The volume is copyright 1922 by American Historical Society. This sketch is on pages 182-3.
---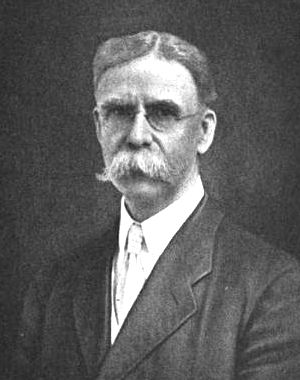 George L. Pope, M.D. For many years Doctor Pope has practiced medicine and surgery in the City of Louisville, where he was born, and where his Kentucky ancestors settled at the very beginning of colonization at the Falls of the Ohio nearly twenty years before Kentucky became a state. Doctor Pope is a member of one of the oldest and most distinguished of American families. His American ancestry covers a period of nearly three centuries. Every generation has produced men of marked ability and character and women noted for superior excellence in all domestic virtues and social accomplishments. Many of the descendants of the first ancestor in this country distinguished themselves in colonial and revolutionary times. One of the most prominent early names in statecraft and judicial history of Illinois was Judge Nathaniel Pope, Major General Pope of the Civil war also traced his ancestry back to the same source as Doctor Pope of Louisville. The history of the Pope family in America has been carefully compiled, but the limits of the present sketch allow reference only to the outstanding members of the successive generations referring to the Kentucky branch of the family.
The first American ancestor was Nathaniel Pope, who in 1637 was sent from England to the Colony of Maryland to adjust some matters with Lord Baltimore. Subsequently he moved to Pope's Creek in Westmoreland County, Virginia, about 1650, and in the following year received patent to a large tract of land subsequently called the Cliffs. His will was probated April 26, 1660. His daughter Anne was the wife of Maj. John Washington, grandfather of President George Washington.
The line of ancestry as here traced runs through his son Nathaniel Pope II, who spent his life at the family seat, Pope's Creek. His only son was Nathaniel Pope, who in consequence of his mother's second marriage was frequently known as Nathaniel Pope alias Bridges. The second son of Nathaniel Pope the third and Jane (Brown) Pope was Worden Pope, who was born about 1700 and married Hester Netherton. Of the children of Worden Pope the sons Benjamin and William were founders of the Kentucky branch of the family, and both were prominently identified with the original settlement at Louisville. Their sister Jean married Thomas Helm, and was the mother of Governor Helm of Kentucky. William was a captain in the Revolutionary war, afterward a colonel in the Kentucky militia. Many of his descendants became prominent in Kentucky and elsewhere, and one of his distinguished sons was Judge Nathaniel Pope of Illinois, previously referred to.
Benjamin Pope, oldest son of Worden Pope, also served in the Revolutionary war. He came to the Territory of Kentucky perhaps in company with his brother William, and erected the first house in what is now the City of Louisville, it being the first residence outside of Fort Nelson. That house stood at what is now the corner of Ninth and Main Streets. Subsequently he moved to Bullitt County, and the house he built on his land there in 1788 is still standing and still occupied by the Pope family. Benjamin Pope was born about 1740. In December, 1766, he married Behethiland Foote, and their six children were Nathaniel, Benjamin, Worden, Francis, George Foote and Sallie.
Of these George Foote Pope was the grandfather of Doctor Pope of Louisville. He was appointed when quite young clerk of Bullitt County. He married Martha Lancaster Dozier, whose father was a Frenchman and a captain of a company in General Lafayette's army during the Revolution. George F. Pope had the following children: William Foote, John Dozier, Worden, Elizabeth Ellen, Sallie Ann and Charles Wickliff.
Of this family John Dozier Pope was the father of Doctor Pope. He was born in Bullitt County September 5, 1822, and early in life became a soldier and lawyer of distinction. He joined the Louisville Legion for service in the Mexican war, and in consequence of the loss at sea of his cousin, Capt. Godfrey Pope, he was acting captain of Company E and at the battle of Monterey distinguished himself for gallantry and bravery. After that war he became auditor of the City of Louisville. At the breaking out of the war between the states he was the first to raise the Confederate flag in Kentucky, carrying with him into the First Kentucky Confederate Volunteers almost all of the old Legion with which he had been identified. He was promoted to the rank of major and afterward to lieutenant colonel on General Hardee's staff. After the war he was assistant chief attorney for the Louisville & Nashville Railroad Company until his death, which occurred January 11, 1902.
Col. John Pope married Euphemia Parkhurst, who died April 5, 1906, at the age of eighty-four. She was born in Newark, New Jersey, and had lived at Louisville from the age of twelve. At the time of her death she was the oldest member of the Chestnut Street Methodist Church, South. Her two sons were Dr. Clarence T. and Dr. George Laughton.
Dr. George Laughton Pope was born at Louisville February 20, 1856, was educated in the public schools of Louisville, and graduated in medicine from the University of Louisville in 1881. For nearly twenty years he practiced in Mississippi, but since April, 1900, has resumed his home at Louisville and has been one of the prominent members of the medical profession in that city. He has taken an active part in the various medical associations, is a past master of Shibboleth Lodge No. 750, F. and A. M., past high priest of Highland Chapter No. 50, R. A. M. a member of DeMolay Commandery, K. T., past noble grand of the Odd Fellows and past chancellor commander of the Knights of Pythias.
In 1880 Doctor Pope married Genevieve Greenley, a native of West Point, Kentucky. Her father, T. B. Greenley, M.D., LL.D., was a highly accomplished and scholarly physician and practiced in Jefferson County sixty-five years. He died at the age of ninety-one. Doctor Pope has two children. The daughter, Genevieve Elizabeth, is a graduate of the Blue Mountain Female College of Mississippi and is the wife of Dunbar Archer, a merchant of Greenville, Mississippi. They have one daughter, Genevieve Pope Archer. The only son of Doctor Pope is John Greenley Pope, who graduated from the University of the South and from the medical department of the University of Louisville. He married Marguerite Hamilton, a native of Louisville, and they have two children, Elizabeth Hamilton and Helen Lee.
---
If you, the reader, have an interest in any particular part of our county history, and wish to contribute to this effort, use the form on our Contact Us page to send us your comments about this, or any Bullitt County History page. We welcome your comments and suggestions. If you feel that we have misspoken at any point, please feel free to point this out to us.