Francis Maraman Will - 1839
Francis Maraman Sr. signed his will on 9 Apr 1839, and it was recorded in the clerk's office on 21 Oct 1839.
---
In the name of God, amen. I Francis Maraman, being of sound and disposing memory, do ordain this my last will and testament, hereby revoking all others heretofore made by me.
1st. I give and bequeath unto my beloved wife Polly Maraman for and during her natural life, or widowhood, all my estate, real, personal and mixed; but if she marry again, then she is to have such part of my estate as the law provided for widows, namely her thirds.
2nd. I will and bequeath unto my beloved wife Polly Maraman all my money on hand, and all notes and bonds for money; and invest her with full power to sue or be sued for the recovery of the same; and after the payment of my just debts, she is at full liberty (then being my widow) to dispose said money amongst my children or grandchildren according to her own discretion and judgment. And any executor hereafter appointed in this will, or that may be otherwise appointed shall have no power to control the power and discretion given to my said wife in the application of the money aforesaid.
3rd. It is my desire and I so will and order it that my wife Polly Maraman or any executor I may hereafter name with her shall not be required to make sale or vender an inventory of my estate, and thatshe or they shall not be required to give any security as executrix or executer of this my will.
4th. At the death of my said wife Polly, I wil and bequeath unto my four sons Francis Maraman, Wilford Walton Maraman, George Washington Maraman and Henry Oldham Maraman all my estate real, personal and mixed, and all increase of the slaves during the life of my wife. The bequest in this article is to take place upon the death or marriage of my wife Polly, except in the case of marriages she is to have her thirds.
5th. It is understood Francis Maraman, my son, has now in his possession the slaves Betty, Nancy and Anderson; it is my will that these slaves remain in his possession during the life or widowhood of his mother, but at the distribution of my estate at her death or marriage, they are to be considered, and their increase, as part of the estate and brought into the general division amongst the four sons aforesaid.
6th. It is further my will and I so order it, that the portion of my estate here given to my son Francis Maraman is to him during his natural life, and after his death to his children, if he have any living at his death, if no childen at his death, then the estate hereby given him is to go to his brothers Walton, Washington and Henry in equal parts.
7th. And whereas William Caldwell has in his possession the slave Celia, Arther and her other children whose names are not now recollect, the said Celia and her increase I will unto William Caldwell during his life, and after his death unto his son James forever.
8th. It is further my will and desire that my daughter Eleanor Jones and her children are to have a support out of my estate, the said support to be regulated and governed by the judgment and discretion of my wife Polly Maraman who I feel satisfied will use and exercise the power here given her with prudence and according to my intent. And in this particular her judgment and discretion is to be free of all control of any executor that may be hereafter appointed with her; but the benefits here secured to the said Eleanor is upon the condition she does not live with or put herself under the control of Henry Jones her husband.
9th. I will and bequeath unto Charles Maraman, my son, during his natural life the slaves Mary, Jack, Jacob, Sarah, Lewis and Stephen, and after his death unto his wife Vina Maraman and her children forever.
10th. I will unto the children of my deceased daughter Nancy Robards the slave Mary and her increase that are now in the possession of George L. Robards.
11th. I appoint my wife Polly Maraman and my son Francis Maraman executrix and executor of this my last will and testament. April 9th 1839. (signed) F. Maraman. Witnesses: W. R. Grigsby, Joseph Simmons.
State of Kentucky, Bullitt County, to wit, 21st October 1839. The foregoing last will and testament of Francis Maraman deceased was this day produced in open court by Francis Maraman, the executor for record, and being duly proved by the oaths of William R. Grigsby and Joseph Simmons, the subscribing witnesses thereto, was ordered to be recorded by the said Bullitt County Court, and the same is thereupon truly recorded in my office. Att. Noah C. Summers, Clerk, Bullitt County Court.
Bullitt County Will Book C, Pages 79-80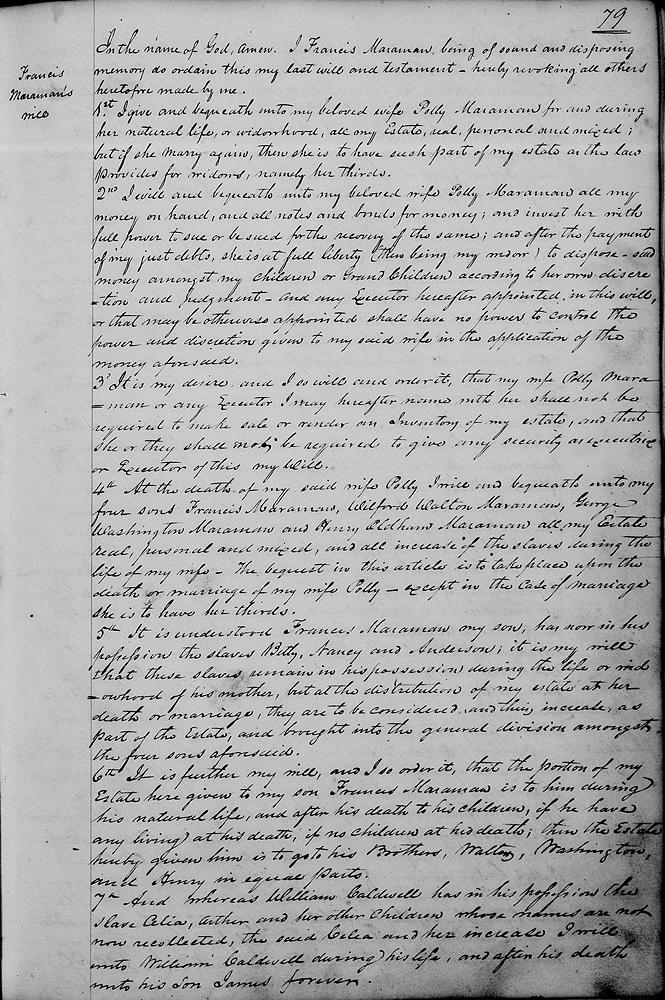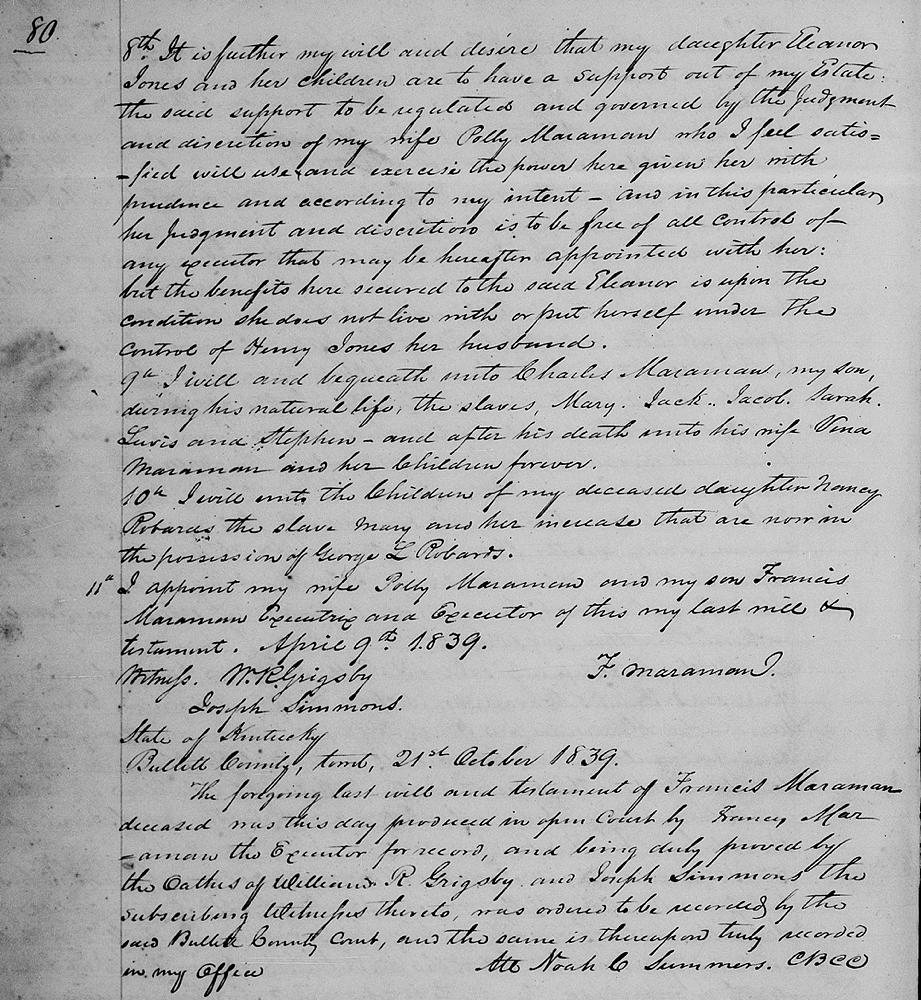 ---
If you, the reader, have an interest in any particular part of our county history, and wish to contribute to this effort, use the form on our Contact Us page to send us your comments about this, or any Bullitt County History page. We welcome your comments and suggestions. If you feel that we have misspoken at any point, please feel free to point this out to us.