Edith Blissett has provided her transcriptions of issues of The Bullitt Pioneer in pdf file format for multiple years which may be viewed at the Bullitt County Public Library web site. The following excerpt is taken from the 26 Feb 1909 issue, part of the file that may be viewed by following this link. We are grateful to Edith for her generous contributions to Bullitt County history.
The pictures below the transcription come from the Museum collection.
---
The Great Flood of 1909
Shepherdsville submerged for the first time since 1894.
Many families driven from their homes,
welcomed and sheltered by sympathetic neighbors and friends.
About half of town under water, streets are real canals.
Great damage and inconvenience.
Property loses heavy.
The great flood of 1909 has come and gone, leaving behind a tale of woe and destruction. After about 36 hours of the hardest and most continued rain, commencing Monday night and lasting until Wednesday morning, old Salt River began rising Wednesday morning and what she did from that time till Thursday will long be remembered by the people of this town and county.
Wednesday morning early, the river was nearly fordable here, but by dark that night, it had risen about twenty feet and was ... to those living on the river bank, none of whom would retire at the usual hour. Warned by watchers, many had to leave their homes before daylight, as the muddy waters surrounded them and came in on the lower floors. Thursday morning by eight o'clock, Main Street, from the new wagon bridge to the crossing between Troutman's and Maraman's store, was a solid sheet of water. Water Street was entirely hidden from view, while on the back street where Herc Weller lives, the water had driven his family away before daylight. At 8 o'clock a.m., the pavement at the northeast corner of Troutman's store was not covered and one could stand there and look towards the new bridge, viewing the boats, wagons and buggies bringing in men, women and children from their overflowed homes up Main Street to places of safety. Inch by inch, the water came steadily on, climbing higher and spreading wider. Soon, the entire pavement on Troutman's corner was covered. Maraman's store and the American Hotel were completely surrounded, up to the old Court House Plat, which was soon covered.
The flood came on, checked slightly by the second crossing on Main Street, which acted as a sort of dam, as did the crossing on Walnut Street at Judge Daniel's mill. On the street between the Puryear Hotel and the L & N RR and up the alley, the flood pushed its way, filling the space next to the railroad up beyond the depot footbridge, covering the pavement at Dr. Ridgway's corner, creeping on and up Walnut Street until finally uniting in front of The Pioneer office with the other body, cutting off communications with the post office, forming a solid sheet and making Shepherdsville look like a modern Venice. The rise continued slowly and gradually until about four o'clock p.m. By that time, the water was about six or eight inches deep all over the lower floor of Troutman's store, but did not get into the bank part of the building, that floor being about a foot higher than the other. It had covered the pavement in front of the old Clerk's Office building and was just at the door of Judge Daniel's mill and foot of Pioneer Office, when it came to a stand. Owning to elevation of the first floor of Maraman & Sons building, it did not get into that floor, except a small portion of the back end of the store.
Wednesday night, aided by the cold, freezing weather, the waters began receding and by nine o'clock, Thursday morning, Walnut and Main Streets and the greater part of Water Street were clear, leaving only mud, slush and debris behind, which will require days of hard labor to remove.
Where everyone was ready to extend a helping hand and did all could that be done to help the sufferers, individual mention may be out of place, but great credit is due Mack Maraman and his sons, Frank and Ehrman, for their watchfulness and untiring efforts. They rendered valuable services and are entitled to the thanks of the whole community.
Reports from the county are still meager, but we fear there has been much loss and suffering.
Rumor says the village of Solitude and that section suffered heavily. Ade Harris' store was six feet in water, so we hear. Destruction in Knob Creek is said to have been great. We have no particulars.
Troutman Bros. loss will probably exceed a thousand dollars.
Maraman and Son's loss will probably amount to several hundred dollars, but we have no estimate from them.
Only one of our regular correspondents letters have reached us this week.
Mail carriers were not able to make their routes.
Mack Maraman, with his river instincts, stuck to his home and did not leave at all.
Buwell Smith and family moved out of the Puryear Hotel during the flood and into Wm. Troutman's on Main street, next to the Baptist Church, which he had previously rented.
The morning mail was distributed at the post office Wednesday morning before the water got in there and was again distributed Thursday morning as usual, a fine achievement considering the attendant difficulties.
Jack Rickerson, one of the oldest inhabitants, says the water was six inches higher than in 1884 , but nearly two feet short of the 1854 mark.
Guy Howlett tried navigating on a raft in Floyd's Fork, which was nearly still from back water from Salt River, but got too far out and was drawn by the current out into the waters of the river. He was unable to manage the raft in the swift water, and near Paroquet Springs, as he was swept under a tree, caught the limbs thereof and climbed into the top. He remained there several hours, being finally rescued by Brandfort Hays, Porter Bridwell and Howlett's brother, on a skiff.
Ed Thompson did not move out. The water came up to, but not into, his house.
School was discontinued Wednesday, the school house being entirely surrounded and not approachable
Wood Meriwether Jr says he saw a corn shock floating down Salt River with a rooster and duck on it. The rooster was singing or crowing "sadly", "I've Seen Happier Days." The duck was quacking, "This is My Day." It was Wood Jr and not Col. Wood Meriwether that saw this.
Many bridges and culverts on the county roads are reported washed away, but none of the iron bridges, so far as we can learn, have been damaged. Travel on most of the roads is liable to be seriously impeded for quite a while.
Cleanup ... as rapidly as possible. Remember, it was after the big flood in 1854 that cholera killed so many people here in Shepherdsville.
The No. 12 steam fire engine of the Louisville Fire Department, in charge of Captain Joe Martin and his regular crew, was brought out on a freight train this morning and will be employed in pumping out overflowed cellars and cisterns here for several days. This is an excellent idea and will greatly relieve the situation. Expense will be paid partly from the town fund and partly by subscription.
The flood sufferers were entertained by their friends and neighbors, we know, as follows:
Dr. J. H. Shafer and family by W. C. Morrison.
Wm. Cook and family by Delbert Fulkerson.
G. L. Hendren and wife by Prof. Hancock.
Misses Lilly and Edith McClain by Miss Maud Smith.
Mrs. Geo. Pearce and Miss Annie by Mrs. Dr. Ridgway.
John Hulswitt and family and Mrs. Mattie Rennison by S. C. Bridwell.
Herc Weller and family by Conrad Maraman.
Jas. Hardaway and James Lee Williams by J. B. Monroe.
Mrs. M. A. Bunting by Mrs. H. C. Bowman.
Levi Troutman and wife by Mrs. A. Meredith.
C. F. Troutman and family and E. A. Cochran and family by J. F. Combs.
Dr. Bates and family by W. T. Lee.
Harry Formhals and family by Mrs. O'Bryan.
Mr. Heck and wife by Mrs. Maria Foster.
Joel Tucker and family by J. T. Tucker.
Judge Wm. Thompson and family by O. A. Lutes.
R. B. Ball by Mrs. O'Bryan.
Misses Ollie and Lena Welch, Lee Beard and others by Mrs. C. D. Lee.
Mr. Willitt and family by Mrs. O'Bryan and others.
Rev. Samuel Lee and wife by J. I. Rickerson.
Mrs. Anton Gild and daughter, Miss Lula, by Lon Lee.
R. H. Miller and family by J. W. Croan.
Tom Hornbeck and wife and Ira Griffin and wife by W. N. Griffin.
Ward's family, colored, by Wm. Mace.
Card of thanks for kindness shown during the high water by John Hulswitt, W. A. Cook, R. H. Miller, Harry Formhals, J. W. Thompson, Mrs. Geo. Pearce, Dr. J. H. Shafer and families.
Additional mentions of the flood:
The Mt. Washington News of March 5, 1909 says that J. D. Stansbury had 130 sheep and lambs to drown during the high water.
James Markwell, it is said, lost $1,500 worth of cattle, hogs, fencing, a surrey, etc. He bought the Sam Johnson farm some time ago.
Joel and Thomas McClure took their horses up into the loft on steps made of baled hay. They had nothing to eat from Tuesday until Thursday save three eggs which they found in the loft.
Rocky Hill News - The back water was higher in the creek in Lick Skillett than was ever known before. It was backed up nearly to A. B. Davis Blacksmith shop.
F. H. Kulmer and Lum Mudd lost a lot of hay and corn during the high water.
The telephone line between the Davis exchange and the Shepherdsville exchange was broken into during the high water, but will be fixed at once.
Mr. Heise suffered much loss by the flood. He estimates the damages at $1,000. He desires me to express his thanks to those kind friends who came to his aid many ways, and for which he is deeply grateful.
Joe Deitrich and S. W. Brooks both lost considerable by having their fencing washed away, as also Dr. Smith.
If the honorable members of the Board of Tax Supervision will ride over some farms along the creeks, etc, they might change their opinion in regard to the enhanced value of land, by reason of the aforesaid creeks.
The rains descended and the floods came and the waters prevailed here Tuesday. At McKenzie's mill, the wheel house was carried away and I am told 100 bushels of corn and same of wheat was lost, besides large damage in other ways.
At Al Miller's store, the water was several inches in the house, every thing had to be moved out or up. Tom Mason and family had to move out; the water coming up three feet in the house. Dave Crumbacker, Dr. Holsclaw and everyone, I suppose, on the creek, lost considerable fencing, posts, wood, etc.
Willard Bell had nearly all the lumber washed away from his saw mill, entailing a heavy loss to himself and others.
---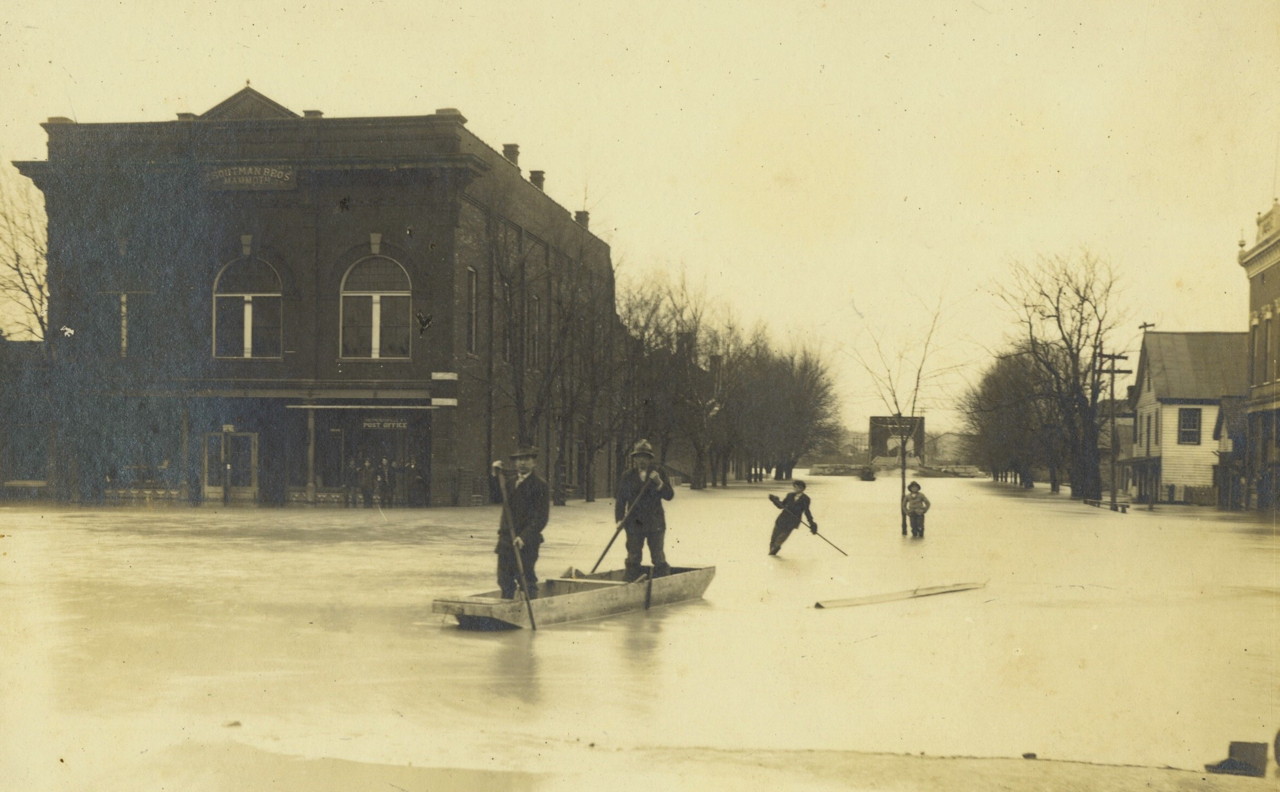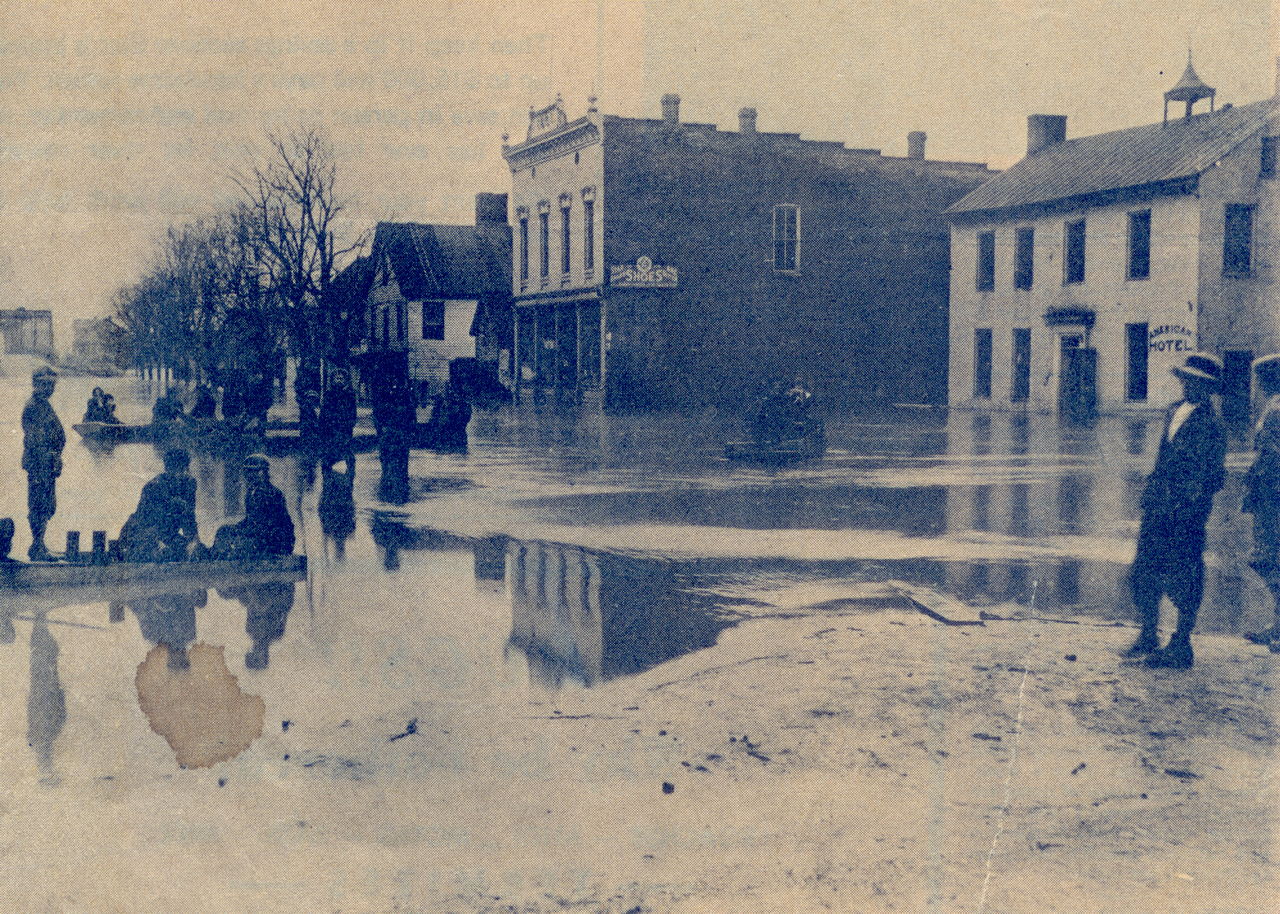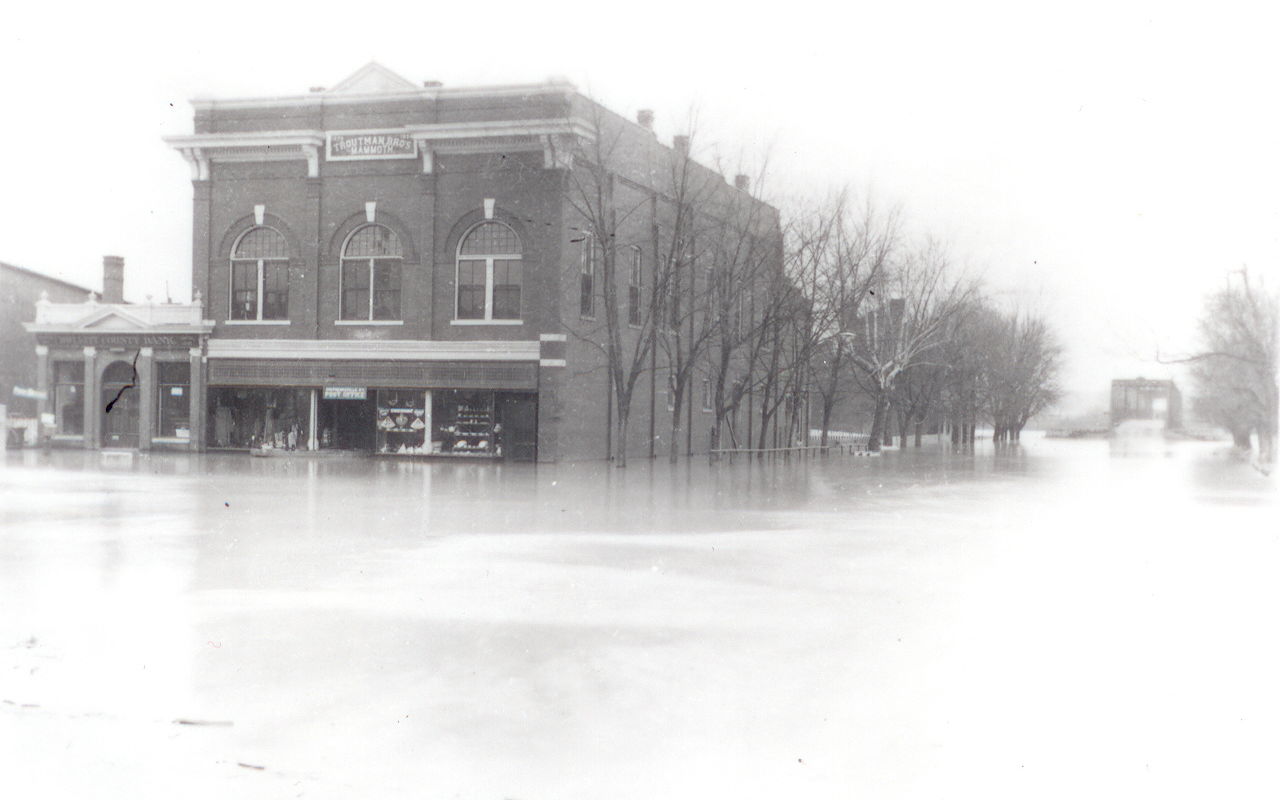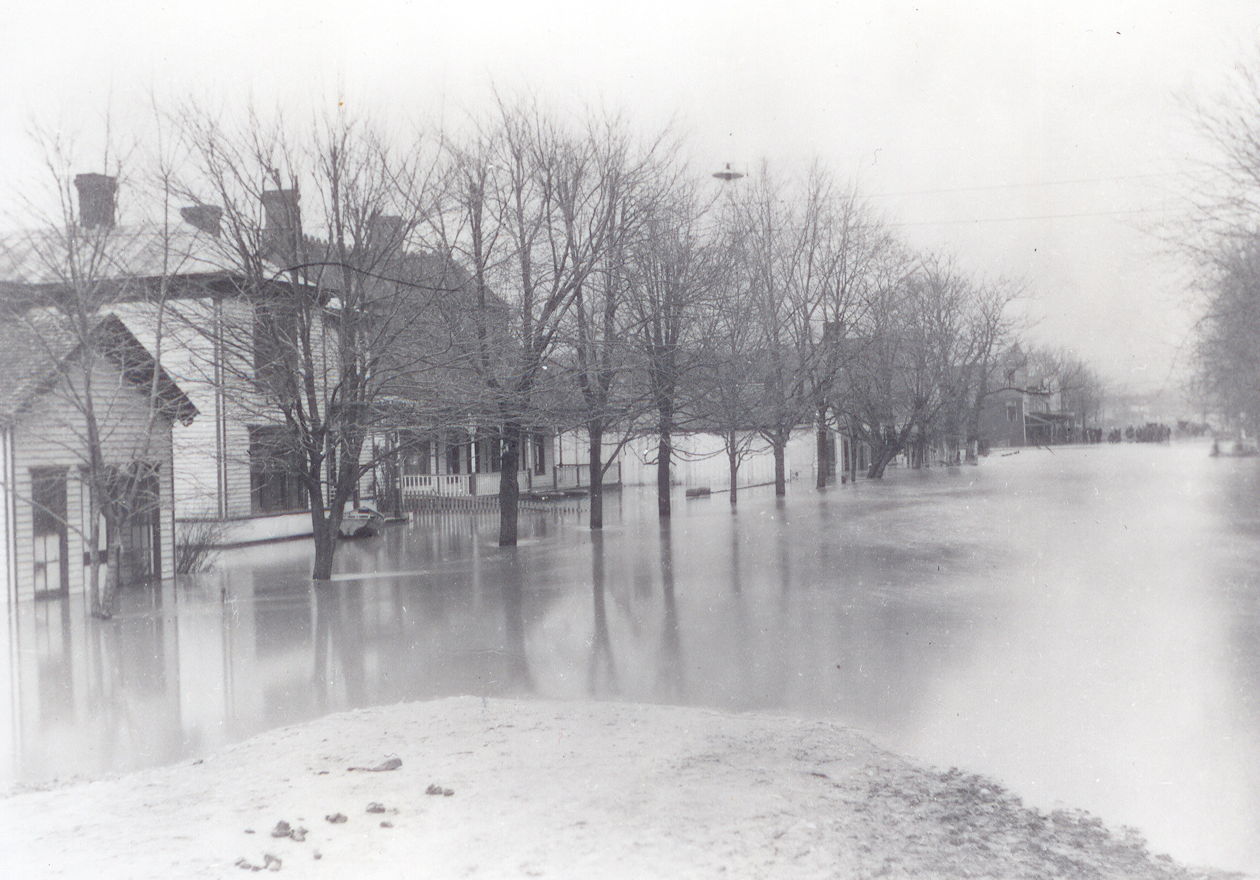 ---
If you, the reader, have an interest in any particular part of our county history, and wish to contribute to this effort, use the form on our Contact Us page to send us your comments about this, or any Bullitt County History page. We welcome your comments and suggestions. If you feel that we have misspoken at any point, please feel free to point this out to us.