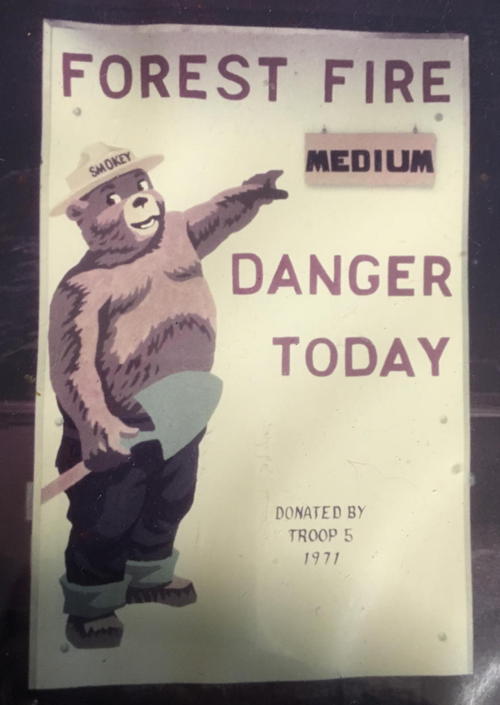 Smokey the Bear Fire Danger Sign
In the Spring of 1971, Boy Scout Troop 5, which met at the Davidson Memorial Methodist Church in Shepherdsville, chose fire safety as their theme for Scout-O-Rama. Besides promoting the topic at the event, the boys painted a special sign to announce the current level of forest fire danger that featured an image of Smokey the Bear.
The sign was later erected at Camp Covered Bridge in front of the Camp Administration Building, as shown here. We are uncertain what became of the sign after the camp closed in 1986, and was replaced by Camp Crooked Creek here in Bullitt County.
If you have comments about this sign, use the "Contact Us" link above to get in touch with us.
---
If you, the reader, have an interest in any particular part of our county history, and wish to contribute to this effort, use the form on our Contact Us page to send us your comments about this, or any Bullitt County History page. We welcome your comments and suggestions. If you feel that we have misspoken at any point, please feel free to point this out to us.