E.W. Hall & Co., Bankers Loan Document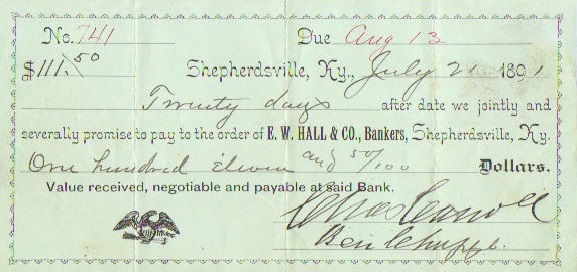 The above document was given to me (Daniel Buxton) by a good friend, Mark Oliver of Shepherdsville. Mark rescued this document from the Peddlers Mall in Middletown, Louisville, Kentucky. I would like to give you a little history on the bank and the note.
E.W. Hall & Co., Bankers
E.W. Hall & Co., Bankers was organized in 1889. E.W. Hall was the President. The other stockholders were Frank Straus, Fletcher Combs, Dr. Leon Straus, and H. F. and C.F. Troutman. Each stockholder contributed $2,500 in Capital. E.W. Hall & Co., Bankers was later renamed Bullitt County Bank.
The above document is dated July 21, 1891. E.W. Hall died on May 9, 1891 just two months before this document was issued. Besides his positon at the bank, E.W. Hall was the Bullitt County Clerk for 16 years and the Bullitt Circuit Commissioner for 20 years. He is buried in the Mount Washington Cemetery.
Charles Caswell
The first signee is Charles Caswell. He was born in Kentucky on April 18, 1830 and died on December 7, 1913 in Hart County, Kentucky. He is buried in the Camp Ground Cemetery in Hart County, Kentucky. According to census records, he was a Hart County farmer. It is unknown what the connection was between Charles Caswell and the second signee Ben Chapeze.
Ben Chapeze
I believe that the Ben Chapeze that signed this document was the son of Adam Chapeze the son of Ben Chapeze Sr. Adam also had a brother who was Ben Chapeze Jr. Ben Chapeze Jr was retired at this time and was no longer doing business and may have died by this time as his death date is unknown. The Ben Chapeze that I believe signed this document was 26 years old at the time the document was signed. He was a lawyer and a very beloved citizen of Shepherdsville. Ben was the Great Great Grandson of Adam Shepherd the founder of Shepherdsville. Ben's father and uncle were the owners of the Chapeze Distillery. His grandfather Ben Chapeze Sr. was also a lawyer and a statesman.
Summary
The document was a loan for $111.50 for the term of 20 days. The loan was due on August 23, 1891. It's likely that the bank loaned Caswell the money, and that Chapeze co-signed the loan, guaranteeing it. I admit that this is speculation, an educated guess. If you have any information on the document of the people involved please fill free to pass it on.
---
If you, the reader, have an interest in any particular part of our county history, and wish to contribute to this effort, use the form on our Contact Us page to send us your comments about this, or any Bullitt County History page. We welcome your comments and suggestions. If you feel that we have misspoken at any point, please feel free to point this out to us.