Christina Cameron's Will - 1800
Christina Cameron was the daughter of John and Jannet (McDonald) Cameron, and the sister of Jannet, John, Archibald, Angus and Nancy. Her will is transcribed below.
---
I Christiane Cameron of the County of Nelson and State of Kentucky, being of sound mind and perfect memory and considering the time of my death uncertain, to prevent confusion after my decease do dispose of my worldly goods in the following manner (to wit). First I order that the expenses attending my funeral and all my just debts be paid out of my estate by my executor hereafter to be named. Secondly, I give and bequeath unto my sister Jannet Cameron all my clothes and whatever else I possess or have a just right unto excepting my lands. Thirdly I give and bequeath unto my brother John Cameron sixty acres of my lands, proportional with the rest in quality, to have and to hold the same forever. Fourthly I give and bequeath unto my brother Archibald Cameron the remainder of my lands to have and to hold the same forever.
It is my will and pleasure that the above mentioned persons only be sharers in my estate. Lastly I hereby ordain this my last will and testament, confirming and ratifying it in preference of all others, and hereby nominate and constitute and appoint my brother John Cameron executor for me to carry this my last will and testament into effect and to have the same faithfully executed agreeably to the tenor thereof. In witness whereof I have hereunto set my hand and seal this twenty second day of November in the year of our Lord one thousand seven hundred and ninety seven. (signed) Christiane Cameron.
Signed, sealed and published in presence of John Ritchie, Richard Sutton, James Reid, Nicholas B. Porter, Henry Gentry.
Bullitt County Sct. At a monthly court held for Bullitt County on the 22nd day of December 1800, this will was produced in court by John Cameron and proved by the oaths of Nicholas B. Porter and Henry Gentry and ordered to be recorded. Teste (signed) Thomas Speed.
Bullitt County Deed Book A2, Pages 187-188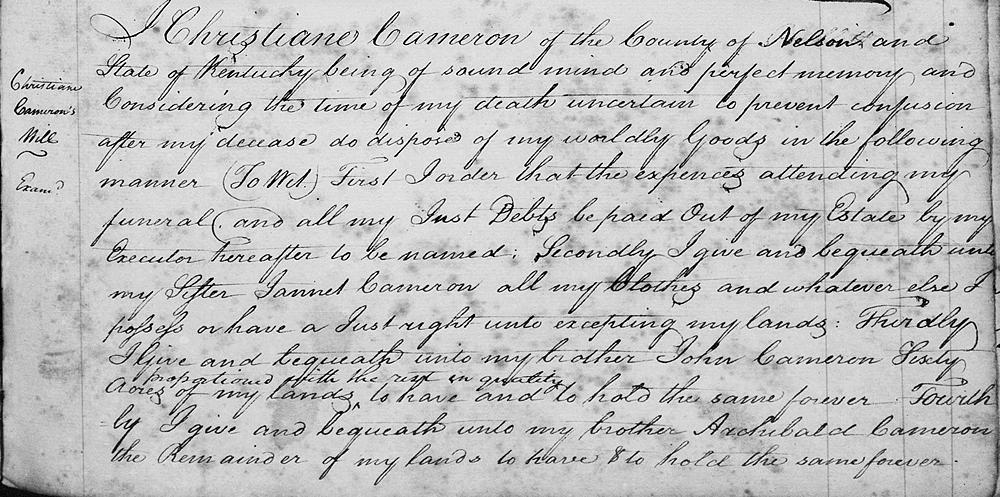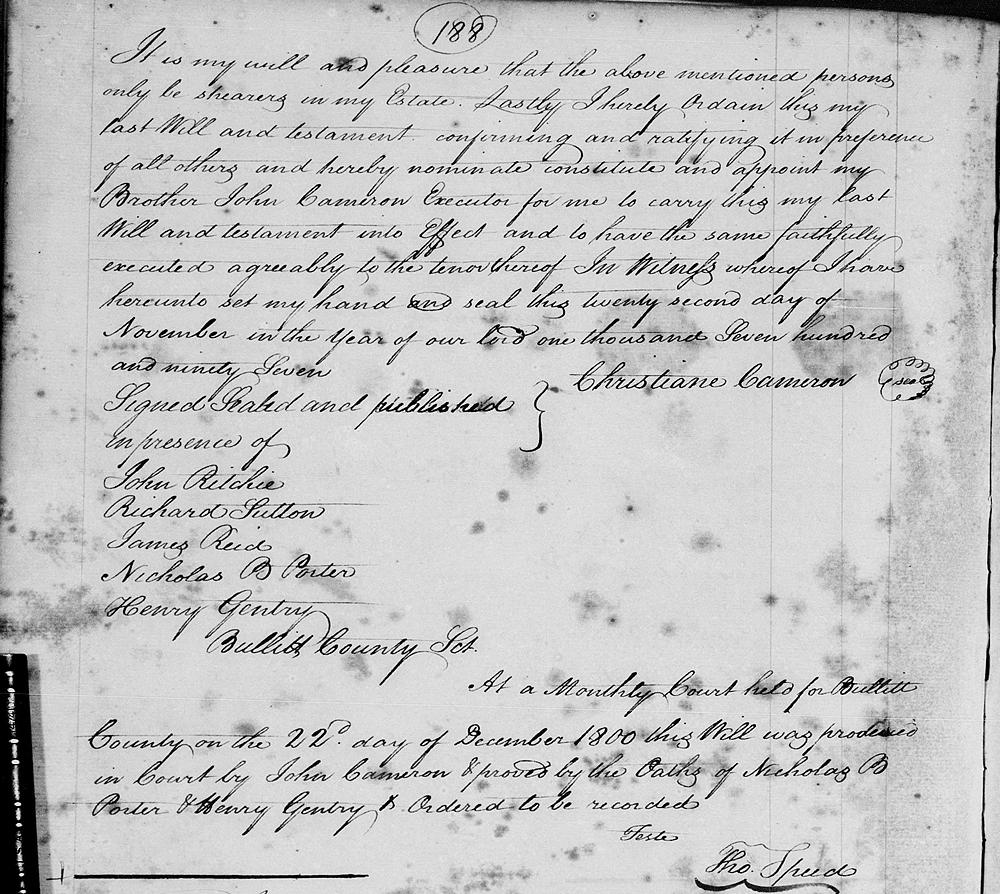 ---
If you, the reader, have an interest in any particular part of our county history, and wish to contribute to this effort, use the form on our Contact Us page to send us your comments about this, or any Bullitt County History page. We welcome your comments and suggestions. If you feel that we have misspoken at any point, please feel free to point this out to us.