Bernheim Forest 1941 Article
In the December 12, 1941 issue of The Pioneer News, a correspondent who wrote under the name "Observer," shared some information about how the development of Bernheim Forest was progressing, and included a letter from Mr. Bernheim himself. We have transcribed his report below.
---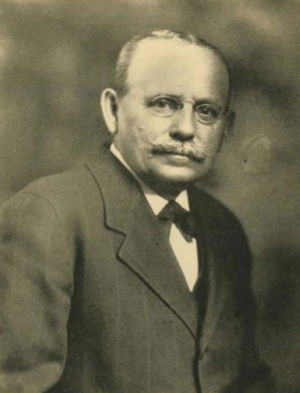 Isaac W. Bernheim
A number of citizens of Bullitt and Jefferson Counties have been making inquiries of late in regard to the status of the Bernheim Reservation of 13,100 acres located in Bullitt and Nelson Counties, the great bulk of which, as is well-known, is located in Bullitt County. In answer to these many inquiries, it may be said that the development has been progressing along the lines planned by the donor, Mr. Bernheim, and that many new improvements have been constructed during the last few years.
Mr. James W. Brown, the President, last week removed his residence from Louisville to the Bernheim Foundation where he and his family are now permanently located.
Several new roads have been built through the Reservation during the last two years and the old roads, which formerly were used by the people living in the neighborhood prior to its purchase by Mr. Bernheim, have been very much improved. It has been some fifteen years since this great enterprise was inaugurated and, if carried out to its fruition it will be one of the great public institutions of Kentucky.
The Foundation is the culminating expression of Mr. Bernheim's generosity and gratitude. In its breadth it seems to embody the outpouring of all that is idealistic from his being. Mary years of thought and study were given by Mr. Bernheim to the problem of expressing in this one last great act all that he holds dear for Kentucky. The 13,100 acres of land included in the Bernheim Foundation is situated about 26 miles south of Louisville, near Clermont in Bullitt County, amidst typical farming and knob land surroundings. The purpose of this Foundation is divided into three broad divisions -- reforestation and conservation, the creation of an arboretum and the building and development of a natural history museum.
Picture if you will, a great stretch of magnificently beautiful country, part of which will be a wilderness park and forest preserve in which hikers, horsemen, nature lovers, and all others may delight, -- a 600 acre park landscaped and planted with the finest specimens of all trees and shrubs that can be grown in this climate, -- a fine museum to be constructed wholly out of Kentucky limestone, showing not only the Kentucky of today, but the Kentucky of pre-history, with representative collections of birds and animals, all in their natural habitat. Truly, one can but say of the conception, "Magnificent." Here is a country man can meet his fellowman from the city and all will be able to share the re-creative joys of the open air and the cultural advantages usually found in a large city.
It is rather a remarkable coincidence that, since the purchase of this land by Mr. Bernheim for public purposes, he has enjoyed the very finest of good health and now in his 94th year he is not only enjoying life to the utmost, but is taking a great interest in the development of this foundation in Bullitt County, as well as other commendable altruistic public enterprises.
As a message to the people of Bullitt County from this great philanthropist and humanitarian, "Observer" attaches hereto a letter recently received from Mr. Bernheim which I am sure will be of much interest to the people of Bullitt County:
Georgian Hotel Apartments
Fourteen Fifteen Ocean Ave.
Santa Monica, California
November 26th, 1941
Mr. Wallace A. McKay
Louisville Trust Building
Louisville, Ky.
My Dear Mr. McKay:
It was indeed a distinct pleasure to receive your friendly lines of the 14th inst.
In answer to your inquiry I wish to say that though in the ninety-fourth year of my life I am blessed with good health and with all faculties intact, though slightly impaired.
The Bernheim Foundation is working steadily along the lines mapped out for it by the well known park engineers, Messrs. Olmstead Brothers of Brookline, Mass. We are making slow but steady progress. Thus far the Foundation since its inception has expended over a quarter of a million dollars, not county the original cost of the land. It may require a million dollars more to finish the work so as to serve the people of Kentucky as a center of friendly intercourse and as a place to further their love of the beautiful in Nature and in Art and in kindred educational and cultural subjects, and become a means of strengthening their love and devotion to their State and Country. Those unfamiliar with the project have but a faint idea of the extensive scope of the plan. Suffice it to say that when finished and given over for public use, it will provide the most attractive spot in all the State, for all the people regardless of race or creed, forever free.
You are specially invited to visit personally, or through the representative of the The Pioneer News, the grounds of the Foundation at frequent intervals and to keep the public constantly advised of the progress.
I shall much regret it, if it be found expedient to merge the old County of Bullitt with an adjoining one. I have formed a deep fondness for its good people.
I remain, with warmest regards and best wishes,
Very cordially,
Isaac W. Bernheim
"Observer"
---
If you, the reader, have an interest in any particular part of our county history, and wish to contribute to this effort, use the form on our Contact Us page to send us your comments about this, or any Bullitt County History page. We welcome your comments and suggestions. If you feel that we have misspoken at any point, please feel free to point this out to us.