Archibald Magruder's 1842 Will
Archibald Magruder was possessed of a considerable estate at the time of his death in 1842. Regrettably, some of it was enslaved people whom he was careful to both name and identify their future places. By doing so, he also identified the names of his living children and some grandchildren. A transcription of this will is given below, followed by an image of the original document as recorded in the will book.
---
Last Will and Testament of Archibald Magruder Senior
Bullitt County Will Book C, pages 221-222
In the name of God Amen. I Archibald Magruder, being of sound mind and disposing memory, but knowing the uncertainty of life and the certainty of death, do constitute and ordain this my last will and testament, hereby annulling and revoking all others heretofore made by me.
Item, 1st: I give my soul to God the author of its being, and my body to its mother dust to be interred in a decent Christian like manner.
2nd: To my beloved wife Capandra, should she out live me, I give and bequeath the use, for life, of the plantation on which I live, the use for life of all the negroes, horses, cattle, sheep, hogs, household and kitchen furniture and farming utensils of which I may die seized and possessed.
3rdly: I give and bequeath onto my eldest child Eleanor Troutman, one bed and furniture and one cow, also one third of the price of my boy Tom, who is to be sold by my executor for the best price he will command, and one third of that price is to go to my said daughter Eleanor Troutman as aforesaid.
4thly: I give and bequeath unto my son Ezekiel Magruder my negro fellow John to him and his heirs forever.
5thly: I give and bequeath unto Upton Troutman, Jacob Troutman, Joseph Troutman, Capandra Troutman, and Archibald Troutman, children of my deceased daughter Ursley Troutman, one third of the price of my boy Tom arising from the sale of him to be made in the manner before described, to be equally divided among them all or the survivors of them at my death.
6thly: I give and bequeath unto my son Levi Magruder one negro woman named Lucinda and her son named John and one boy named Washington to him and his heirs forever.
7thly: I give and bequeath unto my son Ezekiel Magruder my negro woman Candiss to him in trust for the use of my grand children, Nancy, Thomas and Eleanor Miller, children of my deceased daughter Capandra, to be by him the said Ezekiel after the death of myself & wife, hired out and the money arising therefrom, together with all or any children the said Candiss may have born after my death, together with herself be delivered over and conveyed to the said children when they shall all have arrived to the ago of twenty one years, or should either of them marry before the youngest is twenty one, then the trustee shall pay to the one married his or her portion of money then on hand for the hire aforesaid, and should either of the children die before I do or before they are married, the interest of such shall pass to the survivor or survivors.
8thly: I give and bequeath unto my son Archibald Magruder in trust for the use of my daughter Caroline Pinkney wife of William Harris my negro girl Elizabeth and the remaining third part of the value Tom, the right to remain in hims the said Archibald and the use to her the said Caroline during her natural life, and after her death the said negro girl and her increase to be conveyed to the children of the said Caroline, and should the said Caroline die before myself and wife then the said negro and increase to be the property and pass to the said Archibald in trust for and to the use and benefit of the children lawfully born of the said Caroline and also one cow and bed and furniture to be held and pass in manner and form as the negro girl aforesaid.
9thly, I give and bequeath unto my son Archibald Magruder all the residue of my estate, real, personal and mixed, not heretofore devised. To have and to hold to him and his heirs forever.
10thly: I constitute and appoint Archibald Magruder the executor of this my last will and testament. In witness that this and this only is my will I have hereunto set my hand and affixed my seal at my own house on this the seventeenth day of July, Eighteen Hundred and Thirty Two. (signed) Archibald Magruder
Test: Robert Brashear, Maurice (his X mark) Orm, W. R. Grigsby
State of Kentucky, Bullitt County Court, July 18th 1842
The last will and testament of Archibald Magruder Senior dec'd was presented to court by the witness Robert Brashear and at the instance of Archibald Magruder the executor therein named was duly proved agreeably to law by the oaths of said Robert Brashear & William R. Grigsby, the two subscribing witnesses thereto, in court tobe the true last will and testament of said Archibald Magruder Senior dec'd and as such ordered to be recorded as fully proved. Whereupon said will and this certificate are truly recorded in my office. Witness my hand as clerk of the Bullitt County Court. Att. N. C. Summers, C.B.C.C.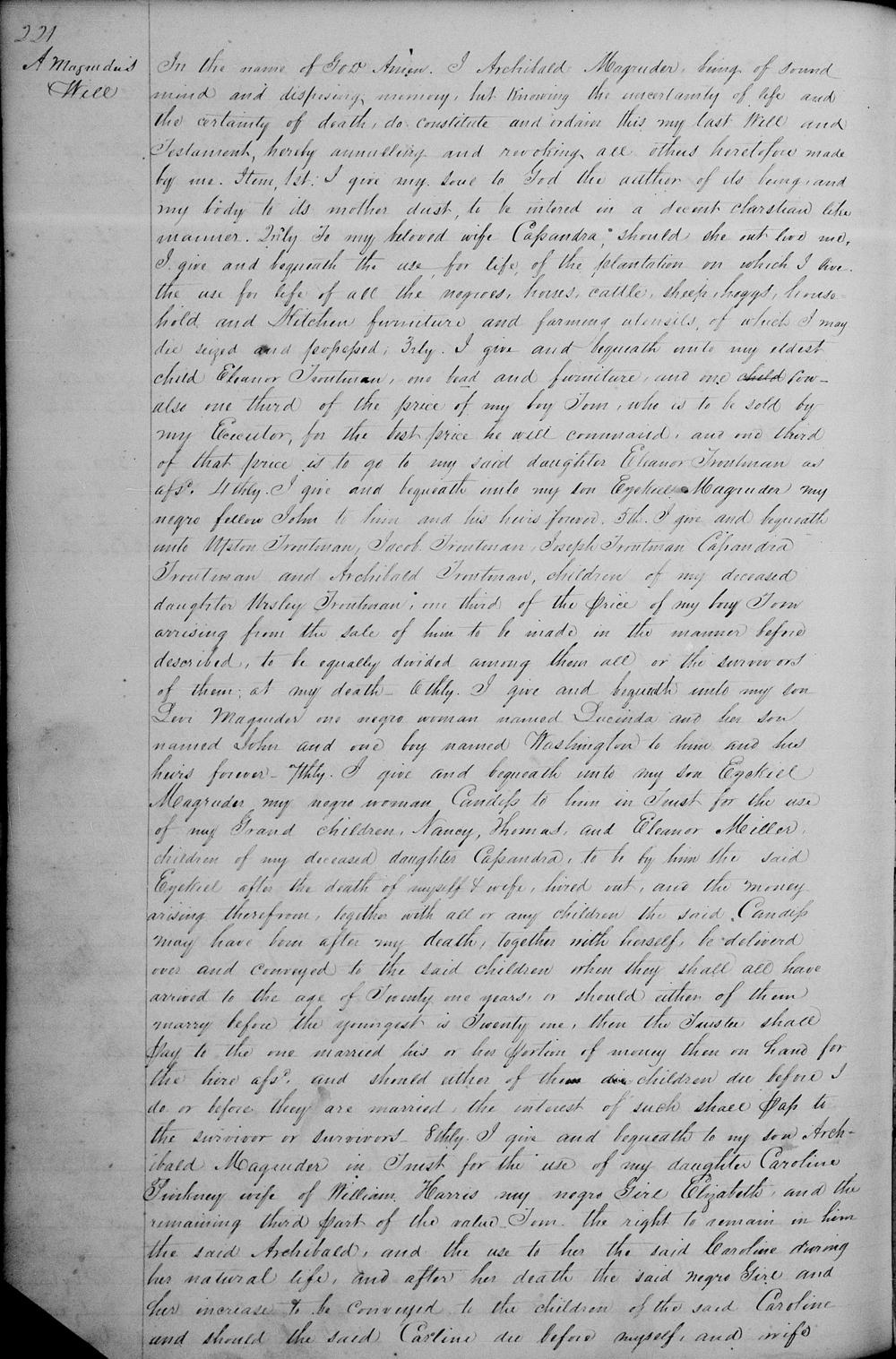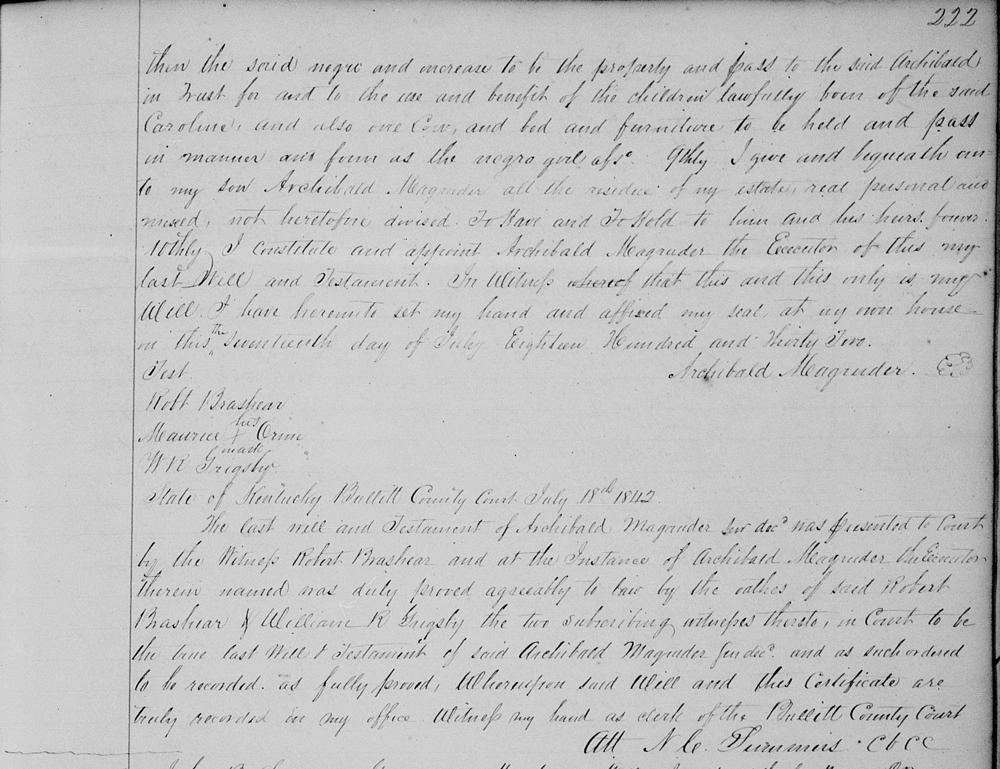 ---
If you, the reader, have an interest in any particular part of our county history, and wish to contribute to this effort, use the form on our Contact Us page to send us your comments about this, or any Bullitt County History page. We welcome your comments and suggestions. If you feel that we have misspoken at any point, please feel free to point this out to us.