Southern Jefferson County 1879 Precincts
Our neighbors at the Oldham County Historical Society have made pdf file maps available for the 1879 Atlas of Jefferson & Oldham Counties which shows names of many of the folks who lived in southern Jefferson County next to Bullitt County at that time. This may prove useful to those researching people who lived in northern Bullitt County at that time.
The seven Jefferson County precincts that bordered on Bullitt County are shown on the following map.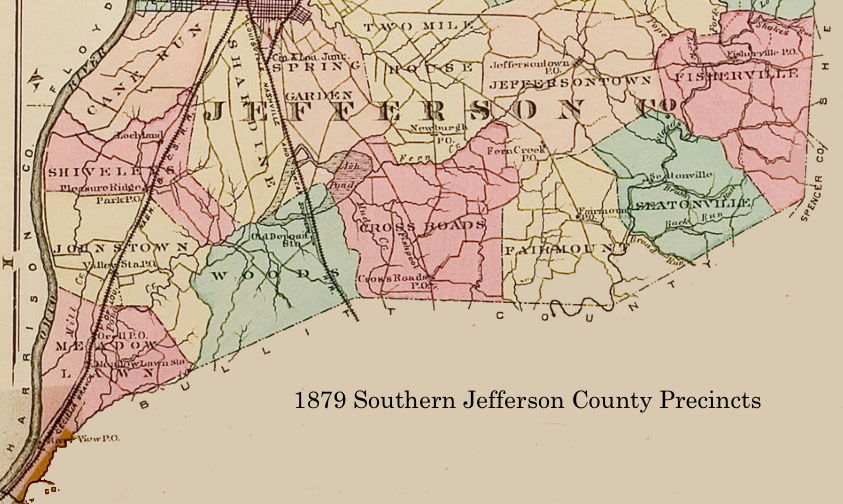 To view these precinct maps, click on the appropriate links below. You will need to use your BACK button to return to our web pages.
The Bullitt County History Museum, a service of the Bullitt County Genealogical Society, is located in the county courthouse at 300 South Buckman Street (Highway 61) in Shepherdsville, Kentucky. The museum, along with its research room, is open 9 a.m. to 4 p.m. Monday, Tuesday, Wednesday and Friday; and from 9 a.m. to 6 p.m. on Thursday. Admission is free. The museum, as part of the Bullitt County Genealogical Society, is a 501(c)3 tax exempt organization and is classified as a 509(a)2 public charity. Contributions and bequests are deductible under section 2055, 2106, or 2522 of the Internal Revenue Code. Page last modified: 07 Sep 2020 . Page URL: bullittcountyhistory.org/atlas1879.html