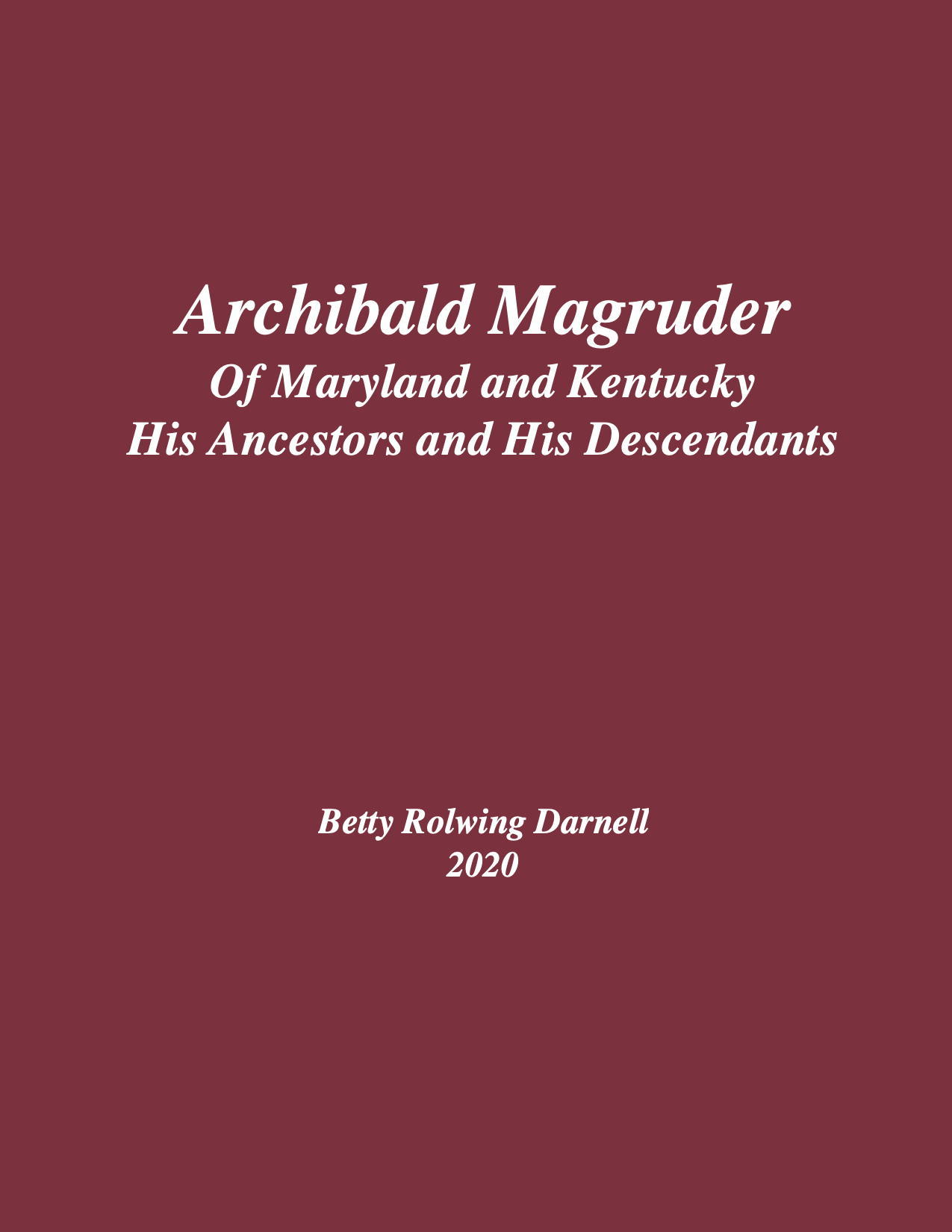 Archibald Magruder of Maryland and Kentucky
His Ancestors and His Descendants
The Bullitt County History Museum is happy to announce a new book by Betty Rolwing Danell.
It is hardcover, 8½ x 11, 332 pages, with photographs, maps, and document images; completely indexed.
Cost is $50 ($55 if mailed).
Copies of the book will be available at the Bullitt County History Museum at the Courthouse in Shepherdsville, Kentucky
Cash, check, or money order (sorry, no credit cards accepted).
Betty R. Darnell
171 Anna Lee Dr.
Taylorsville KY 40071
502-422-0150; bettyd0150@att.net
Archibald Magruder was born in 1751 in Frederick County in the Colony of Maryland. His great-great-grandfather, Alexander Magruder was born about 1610 in Scotland and was assigned fifty acres of land in Maryland in 1653. Several theories of his early history are detailed in the book. His 1677 will left 2400 acres to his children.
The book tells of the lives of the ancestors of Archibald Magruder: Alexander Magruder, his son Samuel Magruder, his grandson Ninian Magruder, and his great-grandson John Magruder. Images of the wills for each are included in the book.
Archibald Magruder married Cassandra Offutt in Maryland, where Archibald served in the Montgomery County, Maryland, militia during the Revolutionary War. Many of their descendants have proven their eligibility for membership in the Daughters of the American Revolution and the Sons of the American Revolution.
After the death of Archibald's parents and the settlement of their estates, he and Cassandra and their children moved in 1795 to a tract of 530 acres on Long Lick Creek, near Clermont, Kentucky, in what is now a part of Bullitt County.
A section of the book is dedicated to each of their children: Eleanor "Nellie" Magruder and her husband Abraham Troutman, Ezekiel Magruder and his wife Nancy Miller, Ursula Magruder and her husband Jacob Troutman, Levi Magruder and his wives Elizabeth Jane Aud, Catherine A. "Kitty" Straney, and Mary E. Straney, Cassandra Magruder and her husband William Miller, Archibald Magruder Jr. and his wife Verlinda Swearingen, and Caroline Pinckney Magruder and her husband William W. Harris.
Subsequent chapters have information on four generations of descendants of Archibald and Cassandra Magruder. There are many stories of these descendants.
The index includes every name mentioned in the book, plus the localities where members of the Magruder family have lived.