John D. Colmesnil
Louisville Past and Present: Its Industrial History
As exhibited in the Life-labors of its Leading Men.
by M. Joblin & Co., 1875, page 221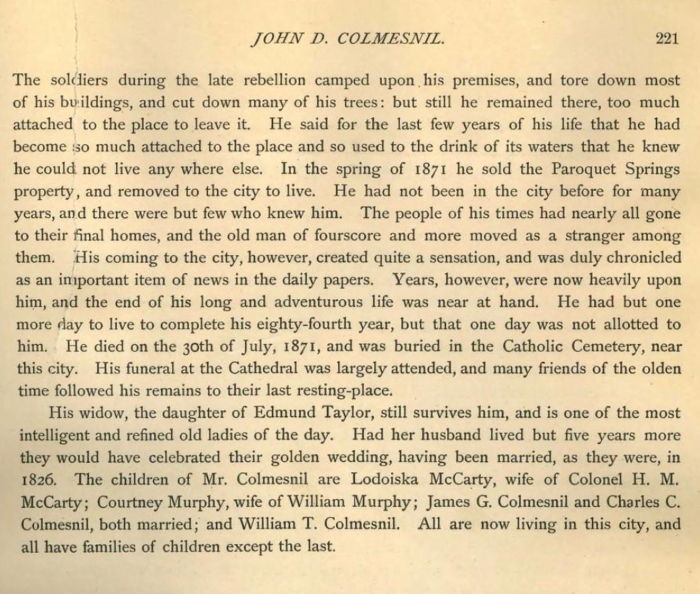 [previous page] The soldiers during the late rebellion camped upon his premises, and tore down most of his buildings, and cut down many of his trees: but still he remained there, too much attached to the place to leave it. He said for the last few years of his life that he had become so much attached to the place and so used to the drink of its waters that he knew he could: not live any where else. In the spring of 1871 he sold the Paroquet Springs property , and removed to the city to live. He had not been in the city before for many years, and there were but few who knew him. The people of his times had nearly all gone to their final homes, and the old man of fourscore and more moved as a stranger among them. His coming to the city, however, created quite a sensation, and was duly chronicled as an important item of news in the daily papers. Years, however, were now heavily upon him, and the end of his long and adventurous life was near at hand. He had but one more day to live to complete his eighty-fourth year, but that one day was not allotted to him. He died on the 30th of July, 1871, and was buried in the Catholic Cemetery, near this city. His funeral at the Cathedral was largely attended, and many friends of the olden time followed his remains to their last resting-place.
His widow, the daughter of Edmund Taylor, still survives him, and is one of the most intelligent and refined old ladies of the day. Had her husband lived but five years more they would have celebrated their golden wedding, having been married, as they were, in 1826. The children of Mr. Colmesnil are Lodoiska McCarty, wife of Colonel H. M. McCarty; Courtney Murphy, wife of William Murphy; James Guthrie Colmesnil and Charles C. Colmesnil, both married; and William Taylor Colmesnil. All are now living in this city, and all have families of children except the last. [photo page]
---
If you, the reader, have an interest in any particular part of our county history, and wish to contribute to this effort, use the form on our Contact Us page to send us your comments about this, or any Bullitt County History page. We welcome your comments and suggestions. If you feel that we have misspoken at any point, please feel free to point this out to us.